TriggerFire Staple Guns
Experience a better way to staple, our TriggerFire line of hand staplers are the easiest and most convenient staple guns you'll ever use. First it's 20% easier to squeeze than other brands on the market, yet it remains durable with it's steel construction. Packed with great features like adjustable drive depth, easy loading, and a rubber gripped handle that can also lock down into place for storage this staple gun is ready to tackle simple or complex projects!
For added flexibility the TriggerFire staple guns have two stapling modes, seamlessly switch between Trigger Mode or Normal Mode. When precision is needed or you need to get into a hard-to-reach area switch the dial to Trigger and simply set staples with one hand using the trigger. Switch the dial to Normal and it operates like a traditional staple gun.

Convenient Features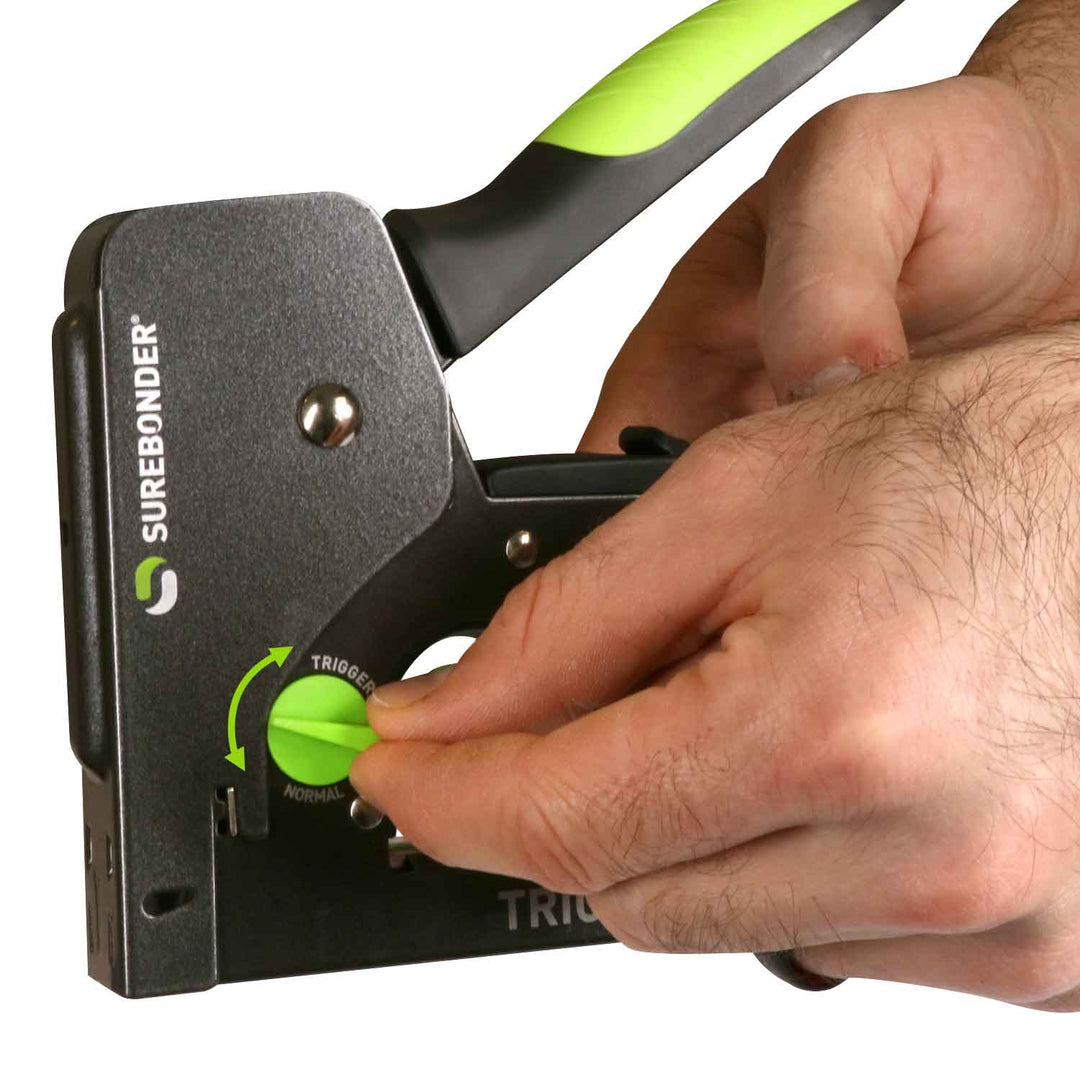 2 Stapling Modes
You have the option of stapling in Trigger Mode using the trigger to set staples or in Normal Mode, it will operate like a traditional stapler.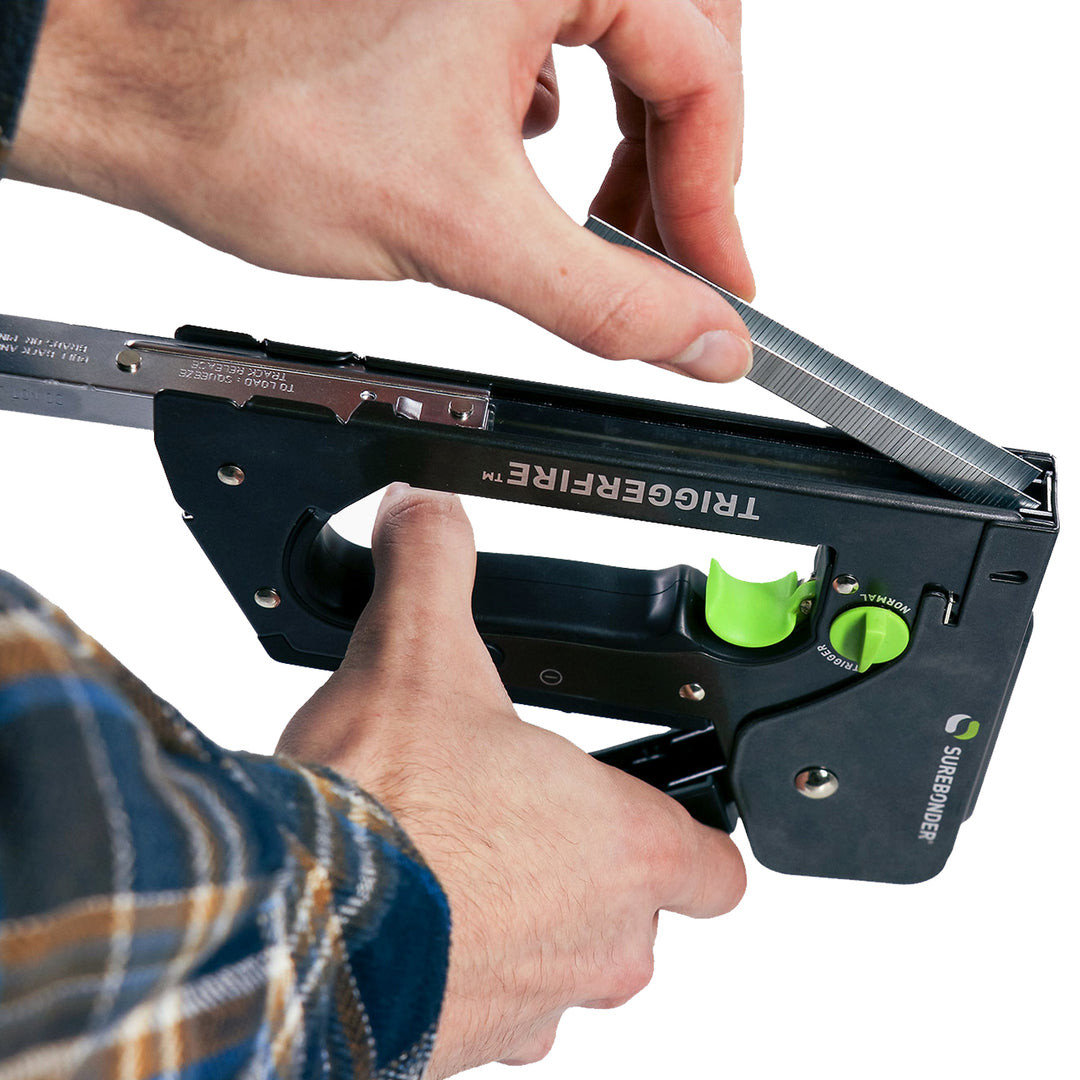 Easy Loading
With no plunger to lose like other staplers, simply pull the track open, load the staples with their points up, and close the track.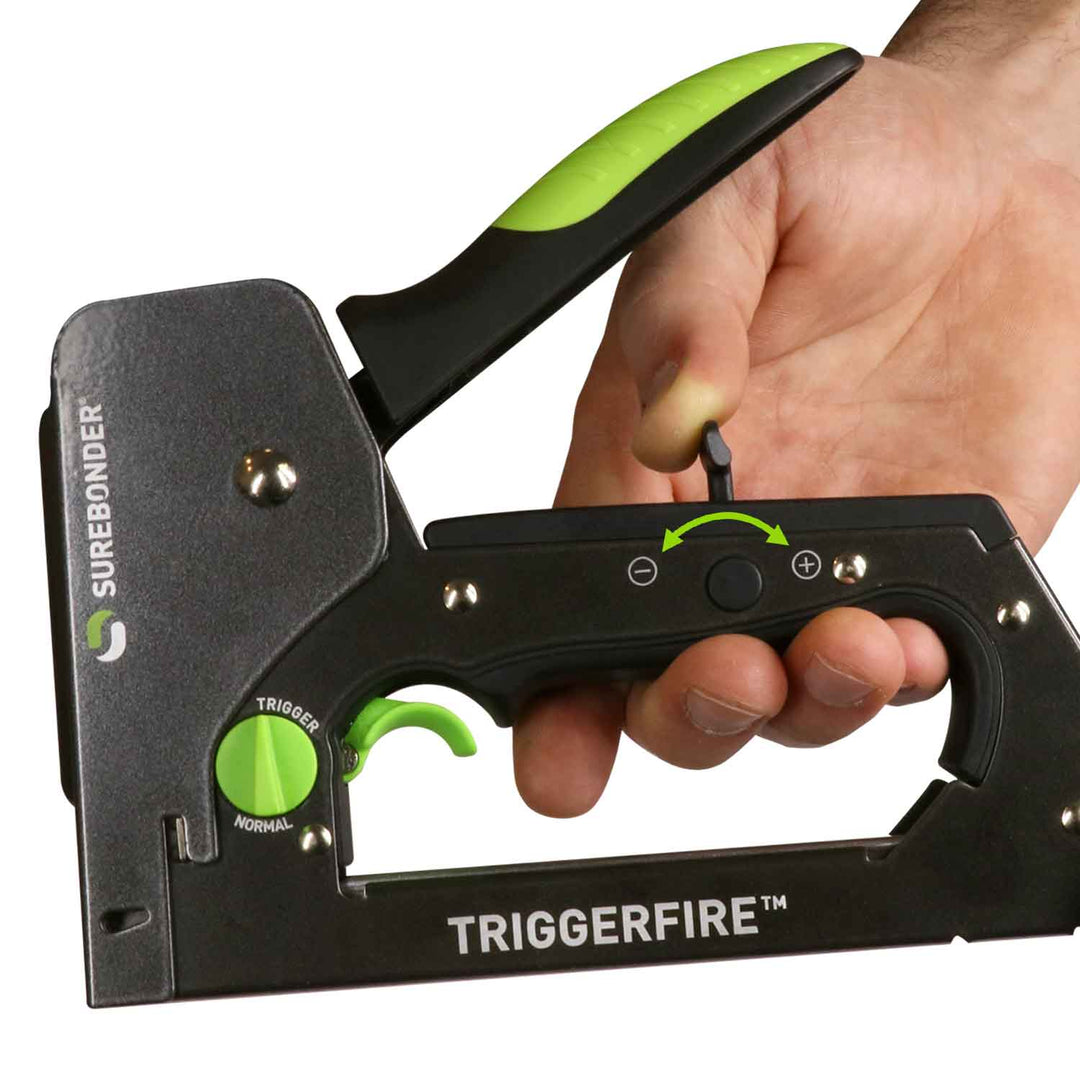 Adjustable Power
Seamlessly adjust the depth drive depending on your materials. Use high (+) for harder surfaces and (-) for softer surfaces.
Heavy Duty Staples
Our standard TriggerFire uses Surebonder #4 heavy duty staples with leg lengths ranging from 1/4" to 9/16"
Insulated Cable Staples
Our TriggerFire Cable Tacker uses Surebonder #19 Insulated Cable Staples
★★★★★

I have been having so much fun with the staple gun. It is super easy to use.

Doris D.
★★★★★

Nice staple gun...I like the fact you can use it as a normal staple gun or use the trigger mode to help you set staples easier in harder-to-reach places.

Dave
★★★★★

This stapler is the best idea yet. With the trigger you can firmly push down on your target and successfully set the staple. This product is very well made.

Outback B.
★★★★★

I'm an artist and i use this primarily for stretching canvas onto wood frame bars. I can easily operate a stretching tool in my left hand which holds the canvas right in place, while cocking the staple gun and placing it and then pulling the trigger with the right hand. The pressure behind the staple is sufficient to properly penetrate the wood. With other models I've used i needed a third hand to apply pressure on the staple gun. It's a wonderful tool.

Leda S.
★★★★★

After I put up my Christmas lights this year, I was determined that staple guns had to have advanced in technology since mine had been purchased. Six strings of lights around the perimeter of my fenced in yard left something to be desired after using my staple gun. This sucker did not disappoint. I have been stapling everything I could since I got it. The quick-release is a god send, not just for the sake of your hand, but for when stapling something up high that you can't see very well...much less focus on pulling the trigger while trying not to pierce the wires. I showed my Father-in Law, thinking he would just laugh at me...nope, he got himself one the same day.

Heather